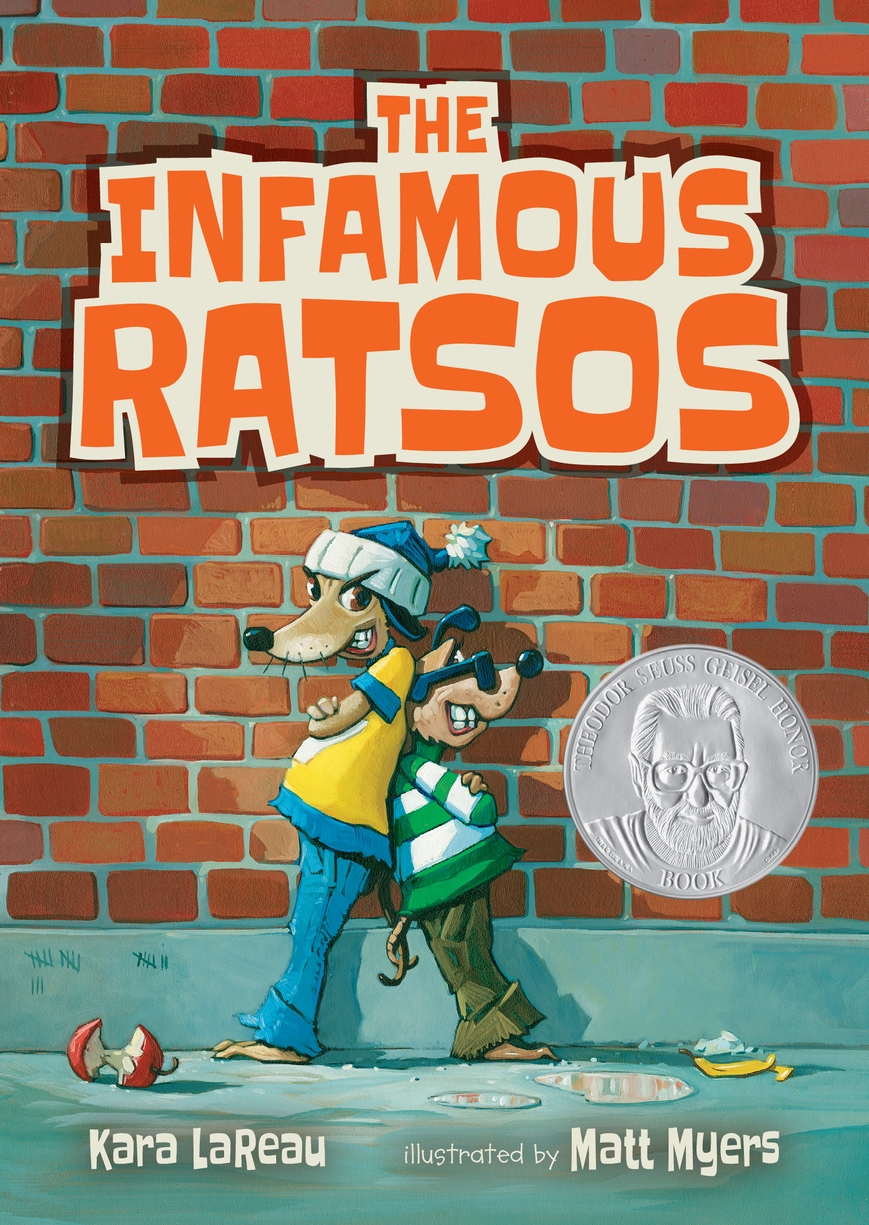 The Infamous Ratsos
Author: Kara LaReau Illustrator: Matt Myers
A 2017 Theodor Seuss Geisel Honor Book! Louie and Ralphie Ratso are no softies. Readers are sure to chuckle as the determined Ratso brothers' plans to act tough go hilariously awry. Louie and Ralphie Ratso's dad, Big Lou, always says that there are two kinds of people: those who are tough and those who are […]
Louie and Ralphie Ratso's dad, Big Lou, always says that there are two kinds of people: those who are tough and those who are soft. Louie and Ralphie are tough, tough, tough, just like Big Lou, and they're going to prove it. But every time they try to show just how tough they are, the Ratso brothers end up accidentally doing good deeds instead. What'll Big Lou do when he finds out they've been acting like softies all over the Big City? Perfect for emerging and reluctant readers, this clever and surprisingly warmhearted chapter book shows that being tough all the time can be really tough.
About the Creators:
Kara LaReau is the author of numerous picture books, as well as the middle grade novel The Unintentional Adventures of the Bland Sisters. She lives in Providence, Rhode Island.

Matt Myers is the illustrator of E-I-E-I-O: How Old MacDonald Got His Farm with a Little Help from a Hen by Judy Sierra, and Pirate's Perfect Pet by Beth Ferry, as well as many other books for young readers. Matt Myers lives in Charlotte, North Carolina.
Specifications:
| | |
| --- | --- |
| Author | Kara LaReau |
| Illustrator | Matt Myers |
| Format | Paperback |
| ISBN | 9780763698751 |
| Trim Size | 139.7 x 196.85 mm |
| # of Pages | 64 |
| Age Range | 5 – 8 |
| On-Sale Date | 09/2017 |